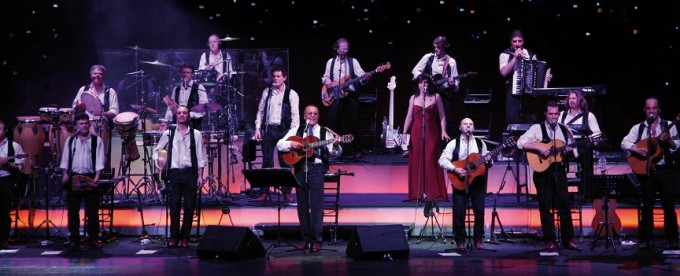 Renzo Arbore is the most eclectic charismatic personality in the world of Italian show business: music, radio and television entertainment.
Writer, presenter and director of television/radio programs, showman, film director, musician, song writer and composer, music critic and journalist, he invented new genres, he discovered many new talents, just to name one: Roberto Benigni. He rediscovered important musical genres (the humoristic song, Italian swing, the Neapolitan song) and he managed to invent a new style, which in Italy is known as "arboriano"; entertaining, innovative and intelligent.
He was born in 1937 in Foggia, a city located in southern Italy, where studied classical subjects. He then moved to Naples where he graduated in Law. It was during this time that he developed his great passion for Jazz (collecting records and playing the clarinet in jazz clubs) and the "Classic Neapolitan song"; some of his favourite artists were Roberto Murolo and Renato Carosone.
He has lived in Rome since 1964, but for work and …curiosity he continually travels around the world.
After a different kind of television, radio and cinema, Arbore has dedicated the last 18 years of his career to the Neapolitan song; putting together the Italian Orchestra, a group of 16 members who started off from a classical model and with great class carry out their mission to relaunch the Neapolitan song all over the world. Along with his orchestra Arbore has performed in some of the greatest theaters in the world, from New York to Moscow, from London to Sydney, from Buenos Aires to Paris, from Tokyo to Beijing…achieving extraordinary success and winning over an international audience.
RENZO ARBORE FORMS The ITALIAN ORCHESTRA
Since 1991 Renzo Arbore, great and deep estimator of music and Classical Neapolitan Song wanted to pursue his personal "dreams": to give birth to a personal orchestra, an "Italian" orchestra made of guitars, mandolins, musicians' voices and choirs, percussions, accordion and keyboards, to promote the Classical Neapolitan Song in Italy and abroad. He was inspired by the '900 naïf Neapolitan Orchestras, where the singer's voices rich with pathos along with the streets rhythm of Naples created a marriage of harmony. Arbore rediscovered the primary importance of the forgotten mandolin sound and was delighted to experiment with rock, blues, country, reggae, South American rhythms which he incorporated in his music. He introduced new rhythmic energies to support the sonority which were never heard before. In a way, Arbore and the Italian Orchestra were bringing attention to the Italian and international audiences, the classic Neapolitan sound as "modern" music. This music is still alive and is able to express the most intense and overwhelming emotions. His goal to create a modern sound with traditional melodies was
difficult because the real "Neapolitan sound", the great tradition "without time" and "without fashion", was considered (eighteen years ago...) by many artists and critics (but not from the wise and cultured Neapolitans) … "out of fashion". It was an expression of Naples that "once was", a Naples "by postcard", a Naples with "pizza and mandolin". To succeed, if not defeat, or at least to neutralize minor stereotype in making this "new/classic" Naples' sound with renewed emotion and new found dignity in the great theatres of Italy and of the world has been "the dream" of Arbore. It also has become reality. After the international debut of the "Italian Orchestra" at the prestigious Montreux Jazz Festival (1991), Renzo Arbore was baptized by Quincy Jones as "the new Italian renaissance man" … of music and of the Italian creative spirit. Following hundreds and hundreds of concerts in the Italian squares, theatres and unforgettable concerts in New York at Radio City Music Hall (1993), Madison Square Garden (1994) and Carnegie Hall (2004), at Royal Albert Hall in London (1995), the Olympia in Paris (1997), the Red Square of Moscow (1996) and many other concerts in Canada, Australia, Brazil, Japan, Argentina, Venezuela, Tunisia, Spain, Montecarlo, Malta, he received a clamorous welcome in China where he played the theatres of Beijing, Shanghai, Hangzhou, Tianjin e Nainjin at the beginning of 2007. In the hands of Arbore and his 15 great talented musicians (all of them great soloists of their own instrument), are going to bring a new light to some Neapolitan musical gems.
These revisited gems exalt the poetry, the fun, the extraordinary "beauty", and the "moment". Here are some of them: "Era de maggio", "Voce 'e notte", "Luna Rossa" "Malafemmena", "Dicitincello vuje", "Reginella", "Munasterio 'e Santa Chiara", "Comme facette mammeta", "Aummo... aummo", "'O Sarracino", "Chella llà", also "Silenzio cantatore", "Scetate", "Mandulinata a Napule", "Ll'arte d'o sole", "I' te vurria vasà", "Na sera e maggio", "Canzone appassiunata", "Te voglio bene assaje", "Canzone Marenara" and many songs "cautiously" covered. Roberto Murolo and Renato Carosone were the inspiration for Arbore. He remembers affectionately their voices and soul from each concert.
Classical Neapolitan songs reached the hit parade charts for the first time in history with the release of the group's first three CDs "Napoli punto e a capo" (1992), "Napoli. Due punti e a capo" (1993) e "Napoli, Punto esclamativo!" (1995).
Around the same time, the newspapers from all over Italy wrote headlines such as: "Naples royalty returns to sing" … "Arbore sings Naples" … "Arbore, the Neapolitan wants to reunite Italy" … "Music for a new Italian image" … "act of love for Naples and southern of Italy" … Indeed "Napoli punto e a capo" becomes his personal slogan. In fact, Arbore never has abandoned to believe that from one spark this song could resurface this noble city, the greatest hotbed of artists - of the music and of the word - of our country. In 1996 his fourth
disc titled "Pecchè nun ce ne jammo in America?", which also contains classic Neapolitan songs, is an original single written with Peppino Gagliardi and Beniamino Esposito. This single is about two Arbore-ian souls, one pro American and one pro Neapolitan which slowly and eventually rationalize the question: "....pecchè nun ce ne jammo in America?" (...why don't we go to America?). Keeping in mind taste and trend not only in music but that anywhere in the world the south shares an extraordinary similarity. The idea that people and places have communalities, such way of life, joy, suffering, eating, dancing which renders them similar to a patriotic state….the united states of the south. In 1998 Arbore records the fifth disc of Italian Orchestra titled "Sud(s)" in which his musical companions have fun giving life to exotic remakes, mixing, reconstructing sound, atmosphere, scenery….and smells. Smells of the earth and people far away but close by, from Santo Domingo to Portorico, from Cuba to Brazil, to Africa. With rhythms from these countries translated into the Neapolitan language. Today these five CDs, filled with authentic gems of classic Neapolitan songs and some diverse napol-Arbore-ian, after years of requests by passionate and new fans of the
"Renzo Arbore and the Italian Orchestra" repertoire, are published by Warner Music in a precious compilation (3cd, 47 songs, almost 4 hrs of music for every taste and latitude).
A triple box whose title could not be more appropriate: "Diciottanni of… Neapolitan songs (…those beautiful ones)" one great festivity of birthday for the maturity of Italian Orchestra.
On stage Renzo Arbore is surrounded by 15 talented musicians, "...all star", as he likes to call them. Some of the features which stand out among them are: the passionate singing of Gianni Conte, the seductive voice of Barbara Buonaiuto, the ironic voice of Mariano Caiano, the acrobatic vocal and rhythmic virtuoso performances of the special guest Gegè Telesforo. Not to mention: the orchestral direction and the piano of Massimo Volpe, the guitars of Michele Montefusco, Paolo Termini and Nicola Cantatore, the accordion of Claudio Catalli, the percussions of Peppe Sannino, the drums of Roberto Ciscognetti, the bass of Massimo Cecchetti, and last but not least, the tormenting and joyous mandolins of Nunzio Reina, Gennaro Petrone and Salvatore Esposito.
The combination of all sounds along with a rich mixture of captivating choruses and instrumental solos create a roller-coaster of contrasting emotions which are unleashed on stage; a wave of melody and sound which make one think of exotic scenery like sunrises, sunsets, parties in the sun and nighttime serenades, of the joy and suffering of love. Slowly audiences from all over share in the illusion of finding themselves in the land where all these emotions originated, under the sun which illuminated and warmed them, among the scents of a land, Italy, which is a place where the soul can breathe; it awakens and calms down, cries and smiles, and once again goes to sleep happy, awaiting a new day to invent.



Info tour: +39 06 39742281